Posted on May 26, 2012 @11:42 am by sromkey
This post is part of a series which uses the room names in the Irving K. Barber Learning Centre to explore places in B.C. and the collections at Rare Books and Special Collections. Our featured place for this post is Ucluelet, located on the west coast of Vancouver Island.  Ucluelet is located on the edge of Barkley Sound and is known for being at the southern end of beautiful Long Beach, which is in between there and Tofino. The Ucluelet area is home to the Yuułuʔiłʔatḥ First Nation.
The resource from our collections we would like to feature from Ucluelet is a pamphlet describing land available for preemption in 1914:
This pamphlet was issued by the B.C. Minister of Lands (William R. Ross) and describes the geography, climate and settlers of the Ucluelet Peninsula. It explains that 40-acre lots would become available for preemption on June 15, 1914 and also provides a map of the lots available:
As explained by the B.C. Archives, the preemption of lands was allowed so that individuals and corporations could acquire crown land, with the idea that they would cultivate it or otherwise "improve" it. This was in practice from 1859 until 1970 in B.C.  The B.C. Archives link above describes how to search for a preemption record; they are now often used as genealogical sources. You can search an online database by name, district, date and other parameters. For example, you could search for lands granted in the Clayoquot District (which would include the lots described in this pamphlet in Ucluelet) from June 15 1914 till the end of that year to get a sense of how many of these lots were preempted, and to whom.
This pamphlet is part of our SPAM (Special Collections Pamphlet collection) and can be found by searching in the Library Catalogue. For information on this collection and other ephemera in our collections, check out our Ephemera Research Guide.
In the Barber Centre, the Ucluelet Room is room 158, a classroom on the first floor.
No Comments
---
Posted on May 4, 2012 @12:29 pm by sromkey
We were shocked and saddened this week to learn of the cancellation of the National Archival Development Program. This is in addition to a major round of cuts at Library and Archives Canada, which was the funding source of the program.
The funding is used by the Archives Association of British Columbia, as it is in other provinces and territories by their respective archival organizations, to maintain our provincial database of archival holdings, MemoryBC,  and to employ a professional archivist and a professional conservator to provide advice to archival institutions and archivists when needed.  It also provides professional development opportunities for archivists, so that we can continue to learn to serve our patrons and our collections better. UBC Rare Books and Special Collections has very frequently taken advantage of these opportunities; for example, this program was used to help develop a preservation plan for the Chung Collection, a declared national treasure and one of our most frequently used collections.
This same pot of funds was used to maintain the national archival database, Archives Canada. This database brings together archival descriptions from institutions across Canada. There is no other "one stop shop" for searching archives across the country, making this and provincial/territorial equivalents like MemoryBC absolutely crucial research tools for everybody who uses archives.   In our reference and teaching activities here at RBSC, we are constantly referring researchers to these resources.
The other arm of this funding was used to provide matching grants to archival institutions to preserve, catalogue and disseminate our archival collections. In recent years, this funding was used by Rare Books and Special Collections to catalogue and make available the Mike Apsey fonds, the Council of Forest Industries fonds, and the  Red Cedar Shingle and Handsplit Shake Bureau fonds (all in our recently created Forest History research guide); the Jack and Doris Shadbolt fonds (featured in our British Columbian Art and Artists research guide); and the Rosemary Brown fonds (the archives of the first black female member of a Canadian parliamentary body). Just from these examples, it is easy to see that this funding is crucial in helping the Canadian public gain access to records ranging from industry, to politics, to the environment, to the arts.
The National Archival Development Program was administered by the Canadian Council of Archives.  If you would like to learn more, there is a Call to Action on their website.
1 Comment
---
Posted on April 17, 2012 @1:14 pm by sromkey
In 2002, Queen Elizabeth II became the second-longest reigning monarch in British history, celebrating 50 years on the British throne. Despite the deaths of her sister, Princess Margaret and her mother, Queen Elizabeth, the Queen Mother, in February and March of 2002 respectively, Queen Elizabeth II and her husband, Prince Phillip, undertook an international tour in which she "express[ed] her thanks to people, both personally and officially, for their support and loyalty over her reign."

For more information on Queen Elizabeth II and Prince Phillip's tour, please refer to the
official website of the British Monarchy, where the details of the 2002 tour are discussed.
As part of that tour, Queen Elizabeth and Prince Phillip visited the University of British Columbia in October, 2002. They had visited Canada the campus three times before, in 1951, 1959 and 1983. To view digitized photographs of their previous visits, please take a look at the University Archives virtual display, Royal Visits to the UBC Campus
During her 2002 visit to UBC, the Queen unveiled a plaque commemorating her visit and celebrating the naming of a room on the fourth floor of the Irving K Barber Learning Centre, the Golden Jubilee Room.

This room is a very popular study space, with mountain and ocean views.
No Comments
---
Posted on April 5, 2012 @9:00 am by sromkey
A reminder that Rare Books and Special Collections, University Archives and the Chung Collection will be closed on Good Friday (April 6) and Easter Monday (April 9). We are however open on Saturday April 7 from 12-5 as usual. For full details on RBSC hours, click here.
The broadside above is from a collection of 55 broadsides from the Kitamaat Mission from 1894-1902, recently added to the Chung Collection. These sheets were used for teaching purposes at Sunday morning services at the mission, and are printed in both the English and Haisla languages. Material published from mission presses are important resources for understanding the interactions between Christian missionaries and First Nations people, and also are used as a source for historical transliterations of First Nations languages.  For more resources similar to this one, try searching the library catalogue for "mission press," or for the name of a specific mission.
No Comments
---
Posted on April 2, 2012 @9:00 am by sromkey
Our next featured B.C. place based on the room names in the Irving K. Barber Learning Centre is Qualicum Beach, sometimes called Qualicum for short.  Qualicum Beach is located outside of Nanaimo, on Vancouver Island. The town's primary industry is tourism, and is also a popular retirement town. As of the 2011 census, it had a population of just over 8,600.
The resource we are featuring is the Noel Money fonds, an archival collection of three scrapbooks belonging to Noel Money who was the proprietor of the Qualicum Beach Hotel in ca. late 1910's-40's. Prior to arriving in B.C., Money served in the Boer War and the First World War. While living in the Qualicum area, Money pursued his hobbies of fishing and hunting, which is primarily what the scrapbooks document- in fact, the books are made of pre-printed pages designed for logging the number of fish, birds and deer hunted or caught day by day (this collection is not for the faint of heart- the logs show that Money was a very successful hunter and fisherman!)
Interspersed with the hunting and fishing logs are photographs from his wilderness trips, often documenting visitors and special occasions.
For those more interested in the operation of the Qualicum Beach Hotel, there are inserted in the books some photographs and pieces of ephemera related to the hotel, such as this photograph of the hotel's golf course:
The Noel Money scrapbooks can be requested for use in Rare Books and Special Collections- the catalogue record is here.
In the Barber Centre, the Qualicum Reading Room is room 305, the large, open study space at the top of the main stairs on the third floor, just outside the Chapman Learning Commons. This is a very popular space for studying and is also where the Chapman Learning Commons-AMS tutoring takes place.
No Comments
---
Posted on March 24, 2012 @11:47 am by sromkey
In our ongoing series of places in B.C. used as room names in the Irving K. Barber Learning Centre, we will look at Stikine. This featured place and featured Rare Books and Special Collections resource is truly an ode to map cataloguers!
The Stikine River is in northwestern B.C., emptying into the ocean in southeastern Alaska. The river and its surroundings are considered to be an important piece of B.C. wilderness to preserve.  If you search the library catalogue for the keyword Stikine, you will find a number of publications related to the preservation of this area.
Like many names of rivers and places, there have been variations of spelling in the name "Stikine" over time, including Shikene, Stachine, Stachin, Stah-Keena, Stahkin, Stakeen, Stickeen, Stickienes, Stikeen, Stikin, and Sucheen! (See the entry in BC Geographical Names). However, also like many place names, it was also known under completely different names- in the map from Rare Books and Special Collections below, it is identified as the Frances River. B.C. Geographical Names confirms that the Stikine was known by other names at different times- they cite St. Francis River, as well as Pelly's River.
If the map cataloguer had not noted this detail in the catalogue record, this map would not have appeared in a search for "Stikine" in the library catalogue! There are many other helpful details in the catalogue record as well, such as names of forts and noting that the borders of B.C., the United States and Rupert's Land are clearly visible (the map dates from the 1860's). To see the catalogue record for this map, click here.
In the Barber Centre, the Stikine Room is room 260, a large classroom on the second floor of the building.
1 Comment
---
Posted on March 15, 2012 @3:16 pm by Sarah Romkey
One of our collection's areas of strength is the history of the forestry industry in B.C. We're therefore happy to present a new research guide on Forestry History and Archives. Here you will find links to archival collections at Rare Books and Special Collections and University Archives about foresters and the forestry industry, information on photographic collections, theses and dissertations, and historical associations.
We are very happy to have this subject guide linked from both Rare Books and Special Collections list of guides as well as from our colleagues in the Life Sciences libraries.  Thank you to RBSC student assistant Laura Hébert for her great work on this guide!
No Comments
---
Posted on March 8, 2012 @1:33 pm by sromkey
Today, March 8, is International Women's Day, a good day to highlight some of the archives of extraordinary women held at Rare Books and Special Collections:
Rosemary Brown was a social worker and politician with the New Democratic Party. She was also an instructor of Women's Studies at SFU, a CEO for MATCH International, and Chief Commissioner of the Ontario Human Rights Commission. Her archives contains correspondence, speeches, lecture material and other documentation.
Claire Culhane was the founder and a vocal member of a Vancouver-based prisoner rights group in the 1970's and 1980's. Her archives contains correspondence and other documentation related to her advocacy work. (correspondence with prisoners is subject to use with a research agreement; contact the archivist for more information).
Lille d'Easum was active in the anti-nuclear movement of the 1960's and 1970's and was an executive member of both the B.C. Voice of Women and the Canadian Coalition for Nuclear Disarmament.  Her archives includes documentation concerning nuclear power plants, uranium mining, nuclear terrorism, disarmament and the international peace movement.
Mildred Fahrni was involved in the 1940's with the Women's International League for Peace and Freedom, and subsequently was active as a public speaker addressing issues of war, poverty, non-violence, and social change.  Her archives reflect this work as well as her work in international development into the 1970's and 80's.
Irene Howard is a well-known literary figure in B.C., having contributed a number of works to the literature of the province, including the recent Gold Dust on his shirt: the true story of an immigrant mining family. Her archives includes manuscripts and other documents related to her work as well as audio tapes of oral histories completed for her research.
Grace MacInnis was heavily involved both personally and professionally in the Cooperative Commonwealth Federation party (precursor to the NDP). Her interests included poverty, housing, and the status of women. Her archival collection contains both personal and professional documentation, including correspondence, diaries, notebooks and photographs.
Hilda Thomas was a community activist and politician with the provincial and federal New Democratic Party. She was particularly active with the Women's Rights Committee provincially, and the Participation of Women Committee federally. Her archives contains extensive documentation on her political and activism activities.
These are just a few examples of the extraordinary women who we are proud to be the home of their archives.  You'll also find the archival material of a number of women's organizations, such as the Vancouver Council of Women, the Women's International League for Peace and Freedom, the Vancouver Women in Focus and the Vancouver Status of Women.
If you're interested in learning more about using archival material for your research, check out our Archival Research Guide, and for more help with women's studies research particularly, check out the Humanities and Social Science's Women's Studies Research guide.
No Comments
---
Posted on March 7, 2012 @2:39 pm by kalsbeek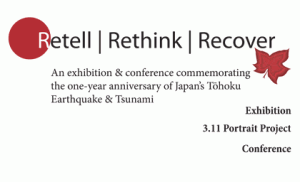 By Glenn Drexhage
UBC Library is hosting an exhibition and conference to commemorate the March 11, 2011 disasters in Japan. Retell, Rethink, Recover, which begins on February 20 and runs through April, consists of three phases on display in different parts of the Library system.
The Retell section highlights disaster prints and historical maps. All materials are from the Library's exceptional Tokugawa maps collection, housed at Rare Books and Special Collections (RBSC).
Rethink includes materials gathered from members of the UBC community who were in Japan during the disasters, or otherwise impacted. The Fukushima Daiichi nuclear plant incident is discussed, and photos and social media archives figure prominently.
Recover features items from UBC's Asian Library collection, as well as contributions from community members and alumni. This section highlights Japan's history of recovering from adversity, and includes information on the support between Canada and Japan during times of crisis.
A complementary display will also feature portraits of earthquake survivors, a project sponsored by the Japan Foundation and Shiseido, the cosmetics company.
On March 10, a free one-day conference co-sponsored by UBC's Department of Asian Studies will feature talks from scholars on Japan, and personal accounts from UBC students, faculty and alumni. This conference will be held from 10am to 4pm in the Dodson Room, in the Irving K Barber Learning Centre.
Read more about Retell, Rethink, Recover in the March 2012 issue of UBC Reports.
Please visit the event site to register and for more information.
No Comments
---
Posted on March 2, 2012 @11:46 am by sromkey
We have been featuring resources from Rare Books and Special Collections that relate to the place names used in the Irving K. Barber Learning Centre as room names. Sometimes we find it challenging to find a related resource; sometimes the challenge is in narrowing down our research!
Such is the case with Victoria. Victoria B.C., on the southern tip of Vancouver Island, is our province's capital and hence the place of many events in the province's history. Rare Books and Special Collections contains almost innumerable books, maps, documents, and photographs related to Victoria.  However, to rare books enthusiasts, there is one (or two) events from Victoria's history that are of particular note: the publication of the first book (or books) to be printed in British Columbia.
What is largely accepted to be the first book printed in B.C. is Order in council constituting the Supreme Court of Civil Justice of Vancouver Island and rules of practice and forms to be used therein, which basically amounted to a "rule book" for the Supreme Court in Victoria. It was printed at the Victoria Gazette in November 1858.
The copy photographed above is particularly special: it was David Cameron's personal copy!  David Cameron was the first Chief Justice of the Supreme Court of British Columbia- in other words, not only did he own the book, he wrote the book too. This copy was given to us by Dr. Wallace Chung, on the occasion of the re-opening of the Chung Collection in Spring 2008. David Cameron's signature can be seen on the cover, and on the Act to provide for the Administration of Justice in Vancouver's Island, tipped in the front:
So, first book printed in B.C.- straightforward story, right? There was some debate over the years regarding which came first: Order in Council or Alfred Waddington's Fraser Mines Vindicated, or, the History of Four Months.:
It may have had something to do with Waddington's preface, describing itself as "the first book published on Vancouver Island." However, even Waddington's own fine print explains that, "When the above was written Judge Cameron's Book of Practice had not yet appeared."
Apparently the Order in Council leapfrogged ahead of Fraser Mines by mere days. In Lowther's A Bibliography of British Columbia, she explains that Order in Council "has the distinction of being the first book printed in the colony of Vancouver Island, coming off the press ahead of Waddington's Fraser mines vindicated."
In the Barber Centre, the Victoria Learning Theatre is room 182. This is a large lecture theatre and is often used for special events.
1 Comment
---